Overview
2019 Spring - 2021 Winter
The Game Creation Society is a student-led game development club at Carnegie Mellon. I'm honored to be elected as President of the Game Creation Society in 2020. In the fall semester alone, we have 100+ active members making 9 games in parallel.
I joined this club in my freshman year not knowing anything about game development. But my time at GCS has been exceptional, I learned so much, made so many games, and met so many cool people. Here are some notable accomplishments we achieved during my time as President.
Accomplishments
Attendence:We had a record turnout this year. At the start of the semester, we started with 250+ people attending our info session and booth showing interest to join and end up with 100+ people actually attending. By the end of the semester, we successfully released 8 games at Hunt Library.
VR: We purchased our first VR headset as a club and made two VR games in the semester after.
Unreal + Unity Stuco: We offered the first Unreal Engine course at Carnegie Mellon and continued our existing Unity student-taught course.
Developer Fund: We started a fund with a few hundred dollars to support our developers
GCS Library: We started a collection of assets that can be shared with all our members.
Discord: Our Discord server continues to grow, now we have almost 600 members on the server.
Industry Talks: We continued to host great industry talks.

We hosted an info session with Epic Games for internship opportunity
We have Rockstar Games gave the opening speech at our Pitch Fair.
We also invited alumni to join us, including the Tech Lead at Unity, the Manager of Production at PlayStation Studios, and the Lead Character Artist at Heart Machine.

Personally, during my three years at GCS, I've made six games including PC, Mobile and VR games.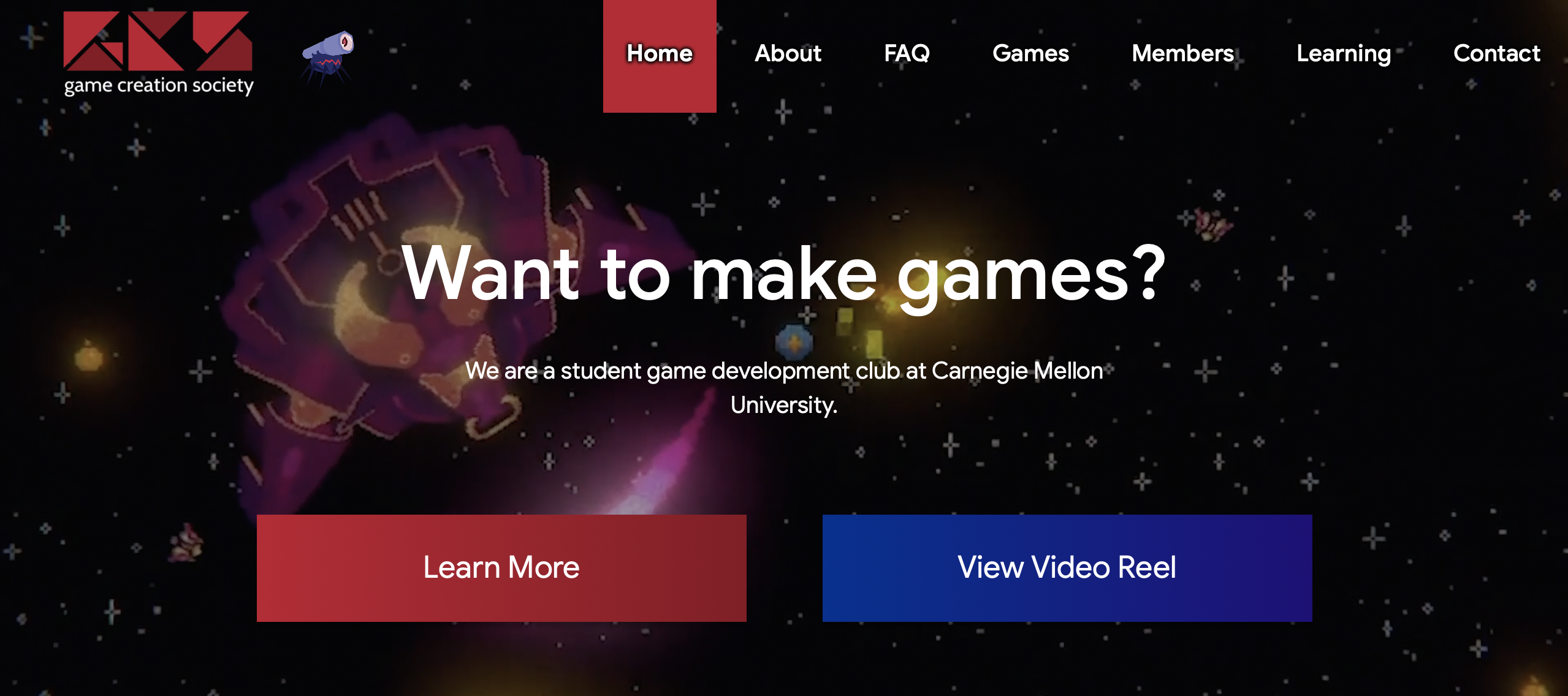 Game Creation Society Website
To GCS Members
I'm very honored to lead the club in the past year. I want to thank all the execs, team leads, alumni, and most of all, our members for giving me such a great experience. I've no doubt the incoming execs will lead the club to the next great chapter, especially with the help of each and every one of you!